Adopt A Student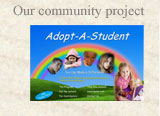 In 2009 Adopt-A-Student was created to help put a backpack filled with start of the year school supplies into the hands of those students most likely to come to school without even a pencil and a piece of paper. The program is simple. Adopt-A-Student contacts businesses to present the problem and the solution. Businesses and individuals volunteer to purchase the backpacks and school supplies from supply lists provided by Adopt-A-Student. Each list is accompanied by a student's gender, grade and required supplies along with the address of the homeless shelter or school. The contributors purchase and deliver the backpack filled with the supplies. Many contributors adopt several students; some help with haircuts, shoes and clothes. At Thanksgiving many of the contributors see that the families have a Thanksgiving dinner and presents at Christmas too. Nothing is required except the supplies and all is appreciated. It is a very heartwarming experience for all. Many contributors involve their children in the giving experience.
 Contact Adopt-A-Student by phone or email. We will be happy to answer any questions and you may also visit the Adopt-A-Student.com website. Anyone or any group can volunteer at anytime. We will contact you mid-summer to find out how many children you want to adopt. One is fine, more is great. It is entirely up to you, your company, organization or group.
You can make a difference.
Jessica Desmond, Program Director
c/o IMAGE SERVICES Staffing