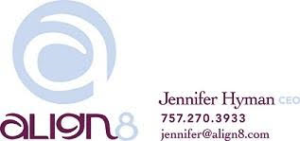 Align8, LLC was established in March 2014 to collaborate years of experience in the event planning industry: catering, directing, venues, bridal shows, entertainment, etc. They share a desire to have a location of their own and a dream to have something lasting. Their focus is to build a business not only for themselves, but extend an opportunity to others who desire the same. We want…more…excellence…sustainability.
The founders/owners of Align8, LLC, have spent the past 3 years putting together a team of people who also want something more. They've had conversations with business owners and entrepreneurs in the event planning industry who are tired of competing (with each other) for every contract. While they know, there will always be competition, it doesn't have to be amongst those connected to Align8, LLC. Their goal is to provide you with a venue to be successful and an avenue to reach the goals you've set for yourself.
While some may call it naïve, they call it smart business. They have a desire to live the true definition of being a part of a collaborative TEAM: "Having members with complementary skills to generate synergy through a coordinated effort which allows each member to maximize their strengths and minimize their weaknesses."
How do you become a part of their TEAM?
If you're in the Events business and this collaborative effort starts you to Dream again of ideas you had for your business, you should talk to us.

If you've always wanted a 'brick and mortar' but couldn't do it yourself, you should talk to us.

If you've wanted to collaborate with other like-minded entrepreneurs to create something bigger than yourself, you should have a talk with us. 
Talking…that's how it starts.
Align8, LLC believes those fortunate enough to be a part of this growing team, will bring an attitude to grow, inspire, enhance, encourage, promote and empower each other to stretch beyond their perceived limitations. It is their hope that their aspirations will be amplified through collaborative efforts and connection with Align8, LLC.
With support already expressed from very impressive affiliations, they know that becoming a top events venue in the Hampton Roads area (and this is just the beginning) is almost a guarantee. If you're interested in getting more information on how you can be a part of this great adventure, message them today, at Info@align8.com, to schedule an interview.  This could be just what you've been looking for and now may be the time to get started.
Don't miss your opportunity to be a part of something phenomenal.  Take control of your future!
Align8, LLC
VISION – To deliver every event effortlessly.
MISSION – To serve our community, delivering service that ensures excellence and inspires all evolved to exhibit extraordinary respect to build relationships with each opportunity
GOALS –
To foster an environment of non-competing businesses.

To offer our clients an excellent level of service.

To become the preeminent venue in the Hampton Roads area.

To collaborate with and coordinate professional individuals to succeed on common goals



Jennifer Hyman CEO at Align8, LLC
NAPW Norfolk Key City Chapter, President
Humphrey & Hyman Catering (H&H Catering),
Co-Owner/Founder
 It's the Perfect Gift, Owner
25 Years of Retail Experience
8 Years-Independent Contractor
 Virginia Beach, Virginia
Highly motivated, confident and energetic in my approach as a Business Owner to give the same vigor given to an employer with an even stronger attention to Customer Service. Adept at communicating effectively with professionals at all levels of authority as well as the everyday Consumer. Effective team player with strong interpersonal skills, self-motivated, focused and comfortable working independently. 
At Align8, LLC, with support already expressed from very impressive affiliations, we know that becoming a top-notch events venue in the Hampton Roads area (and this is just the beginning) is almost a guarantee. At this facility, our Team's competitor is our Team. We will compete with ourselves to always deliver better than our last event. And the way to do that is to ensure that each Client is treated with respect and all contracted promises are delivered. 
Our Gifting service is the program for your company's Recognition, Customer and Employee Appreciations, Anniversaries, Holidays and other occasions that you have need of gifting. Simply saying "Thank You" is not always sufficient for the time/attention given to you by those who make what you do look so effortless.
We know that Recognizing a Job well done; a great Revenue Improvement idea; Perfect Attendance; Best Improved, Sales Incentives, etc. are great ways to increase company/brand loyalty. Even in hard times, everyone wants to be appreciated. We help you do that with style & class. Your budget-Our expertise. We make you look good to them.
In Retail Management 25+ years teaching women how to build a business owner wardrobe on an hourly-wage budget. 7-1/2 years in telecommunications. Excellent Customer Service skills. 8 years in a Career Counseling company caring for training, logistics, scheduling and booking conferences for 20-400, payroll, invoicing, promotional giveaways and monthly conference call recording/transcriptions.
Call Us Today!
757-270-3933
Email:
On the Web