Carl Khalil & Sada Sheldon Law Firm
Welcome to our Franchise, Trademark, Business, and Civil Litigation Law Firm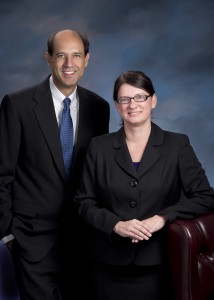 Carl Khalil and Sada Sheldon have joined forces to bring a distinct advantage to the practice of franchise, trademark, and business law.  Having served as in-house counsel to major franchisors, they bring both a legal background and business perspective to the practice of law.  In addition, they are conveniently  located outside of a costly metropolitan area.  Hence, they are able to serve franchisors nationwide, but at a more reasonable cost.
Carl and Sada have 24 years of  

Franchise Law

 

experience. Collectively, they grew Liberty Tax Service from 35 offices and zero Area Developers to almost 4,000 offices and 100+ Area Developers across the United States and Canada, earning over $200M in franchise fees.   Let them put their experience to work for you, so that you may start or grow your business.
Carl and Sada offer businesses and individuals help on matters relating to:
–Franchise Disclosure Document ("FDD") Preparation and Filing -FDD Renewal and Amendment Filings -Implementation of Area Developer Programs -Franchise Relations and Disputes
-Trademark Registration -Licensing and Assignments -Replies to USPTO Office Actions
-Corporate and Limited Liability Company Matters -Employment Law -Contract Drafting
The law team of Carl Khalil and Sada Sheldon also has a collective litigation background that includes the litigation of franchise, false advertising, trademark infringement, breach of contract, non-compete, commercial law, and personal injury cases.
Law Offices of Carl Khalil & Sada
Contact Us
Phone:  

(757) 263-4596
2000 General Booth Blvd., Suite 201
Virginia Beach, VA 23454