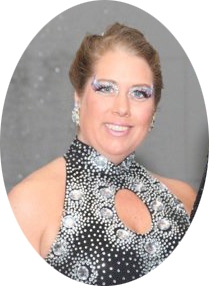 Melinda Mielock (formerly Spencer) was born in Topeka, Kansas.  She started dancing at the age of five and during that first dance class Melinda knew that dancing would always be a part of her life. She has studied under many great instructors, all of whom have made her into the dance professional she is today.
Melinda has danced and taught professionally in the Hampton Roads area for 18 years. She enjoys working with social dancers as well as those who wish to work toward Showcases or to be competitive dancers.  Her passion is showcasing her students in Spotlight Performance and highlighting their accomplishments and hard work, both at the studio and local venues. Her biggest joy in dancing is transforming the Non-Dancer into the best Dancer they can be.
In addition to dancing, Melinda enjoys and excels at choreography. She offers Choreography packages for any occasion and can create a beautiful dance routine for dancers in any level of dance. She is passionate about her work and is so thankful to all of her students and their families for being a part of her life.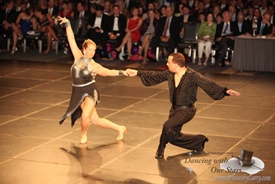 Melinda participated in the United Way Dancing with Our Stars (DWOS) event from 2007-2010. She enjoyed the challenge of making a non-dancer into a performer and also in giving back to the community through this charitable event. In 2009, Melinda made her stage debut in the production of Ballroom; produced by the Virginia Musical Theatre, Inc.  She has also appeared in Television on Investigation Discovery's Happily Never After as a Ballroom and Jazz Dancer and recently participated in the First Dancing with the Hampton Roads Celebrity Stars event, held at the Sandler Center for the Performing Arts. 
Melinda's goal is to pass on to her students the love of dance in a safe, friendly, and fun environment. She believes that proper dance technique is extremely important; however, to be a successful dancer you also have to combine passion, dedication, and desire. It is her job to give each of her students the confidence to believe in themselves and their abilities.
Melinda has experience in all aspects of running a dance studio and when not dancing, Melinda enjoys singing and performing with the Virginia Coast Chorus, a chapter of Sweet Adelines International.  They are currently ranked 3rd in the world in the small chorus division.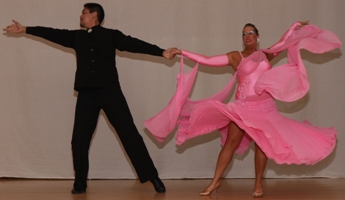 Melinda knows that certain dances may not be for everyone, but dancing and general is … whether you are young at age or young at heart, single or couples, planning for a special event, or simply planning for a healthier tomorrow, dancing can provide you with a great avenue for enjoyment. Melinda offers both group and private lessons in her exclusive 900 square foot private studio located just outside of Sandbridge, Virginia Beach, VA.
While proficient in both American and International styles of Ballroom and Latin dance, Melinda excels in American, which will provide a strong foundation for any beginner dancer.
Those with previous dance experience will be delighted at Melinda's easy teaching style and vast knowledge of technique, which will no doubt take you from social dancer to competitive dancer and anything in between.
Regardless of the event or reason, whether it is social, competitive, wedding, health or just for fun, Melinda can help you achieve your personal goals. Unlike big expensive franchised studios, Melinda allows for a more flexible method of teaching, which is customized to fit your needs … and your budget.
DancinMis, LLC.
Melinda Mielock
Business Office:
931 Camino Real S. Virginia Beach, VA 23456 
Studio Location:
Direct Number: 757.272.4195
Email: info@dancinmis.com