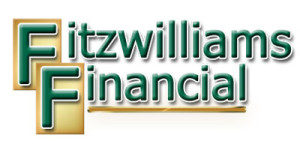 Welcome to Fitzwilliams Financial
Tax Free Retirement Is Possible !
Fitzwilliams Financial is a Tax Free Retirement based financial services provider. The focus is to help middle America and small business owners protect and grow their assets. Partnered with one of the nation's best-selling authors, Patrick Kelley (Author of /Tax Free Retirement/) we have been able to take complicated traditional retirement methods and present them with a clear, no nonsense point of view. Common sense is our basis and reality is our focus. There are two rules at Fitzwilliams Financial: Rule 1: Just don't lose the money. Rule 2: Don't forget rule one. 
Timothy J. Fitzwilliams
Ever since Timothy can remember, he has been involved in business in one way or another. By the age of eight, he found himself going door to door with different sales school programs. About the age of twelve, he opened his first business, a lawn care service. From that, he quickly learned negotiating techniques and business planning strategies. By the age of sixteen he was the number one part time sales associate for instant credit applications in the country with Hechts department store. This same approach is how he took on the financial industry: aggressive, motivated, and hungry. This was just the beginning to his successful rise in life. During his junior year at George Mason University he was invited to study at Oxford and Cambridge University as a foreign exchange student. He graduated magna cum laude with a Bachelor of Science in Economics from George Mason University. From that day, he has been involved in the financial services industry. He has since built a strong team of agents and managers across the country and travels frequently helping churches, corporations, and the military through free educational seminars on Tax Free Retirement. Following a very simplistic concept of two Rules: We have helped thousands of people protect their wealth and build tax-free retirements for their families and businesses with a guarantee of NO loss.     Timothy has a deep passion for the industry. His drive to win and help others is fueled from the sickness and heartache he witnessed with his mother and father growing up. There is not a task or problem that Timothy won't take head on with the utmost efficiency and confidence.   As a speaker, he has motivated and inspired rooms full of hundreds of people at a time. Through his passion, Timothy's audiences have been moved to tears and standing ovations, just some of the side effects experienced when he speaks.   His wife, Corrine, has been the backbone of his life, helping him build the business he has today. Together they work hand in hand building and growing their business with a no-nonsense approach and a common sense perspective.
To go to our Safe Learning Center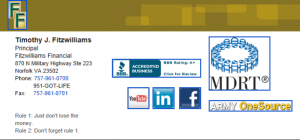 Timothy J. Fitzwilliams
870 N Military Highway Ste 223