MELISSA JACKSON HOWELL is the managing partner of HOWELL LAW GROUP, PLLC.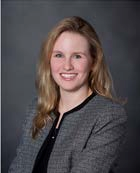 Since 1995, Ms. Howell has worked in the legal field in Hampton Roads, Virginia.   For over the past decade, her practice has centered around counseling clients on routine and complex employment law issues, including compliance and litigation avoidance; negotiating and litigating employment and contract-based disputes in federal and state courts; representing clients through alternative dispute processes; and composing and defending employment-related agreements, including restrictive covenant agreements.
Prior  to  launching HOWELL  LAW  GROUP, PLLC,  Ms.  Howell worked  at a national labor  and employment law boutique.   Since 2002, she has negotiated, mediated and litigated matters involving Title VII of the Civil Rights Act, the Americans with Disabilities Act (ADA), the Age Discrimination in Employment Act (ADEA), the Family and Medical Leave Act (FMLA), the Fair Labor Standards Act (FLSA), the Uniformed Services Employment and Reemployment Rights Act (USERRA), and various other employment and contract-based disputes in forums including federal  and  state  court, as  well  as  before  the  Equal  Employment  Opportunity  Commission (EEOC), the United States Department of Labor (USDOL), the Virginia Department of Labor and Industry (Va DOLI), the Virginia Employment Commission, and the Virginia Department of Health (VDH).
Ms.  Howell  was  selected  as  a  Virginia  "Top  Litigation  Lawyer  Under  40" for  2013 by the American Society of Legal Advocates, one of Washington D.C.'s Women Leaders in the Law for 2013 by American Lawyer Media, a "Rising Star" by Virginia SuperLawyers multiple times and a "Famous  Former" in 2012 by the Girl Scouts of  the Colonial Coast.   She is "AV" rated by Martindale-Hubbell, the highest ranking available.
Ms. Howell is currently a member of the Federal Bar, Virginia Bar and Norfolk and Portsmouth Bar Associations, and is the Executive Officer of the Chesapeake Bar Association.   She is a member of Rotary International and the Chesapeake Rotary.   Ms. Howell is President of the South Hampton Roads Alumni Chapter of Christopher Newport University and sits on the CNU Alumni Board of Directors.  She also sits on the CNU Educational Foundation and has taught in the Government Department at CNU.  Finally, Ms. Howell serves on the Board, and Chairs the Public   Policy   Committee,   for   the   National   Association   of   Women   Business   Owners, Southeastern Virginia (NAWBO) as well as serves on the Sponsorship Committee for the Commercial Real Estate Women (CREW) Hampton Roads.
Ms. Howell routinely speaks in the community on labor and employment issues.
Ms. Howell is admitted to practice law in all courts in the Commonwealth of Virginia, before the U.S. District Court for the Eastern District of Virginia, the U.S. Court of Appeals for the Fourth Circuit, and the United States Supreme Court.  She received her B.S. degree from Christopher Newport University, where she graduated magna cum laude in 1998. She earned her J.D. from the College of William & Mary School of Law in 2002.
Contact Us At :
757.630.4030 |  Direct
757.620.2947 |  Cell
757.216.0160  | Fax